Ted is President and Chief Operating Officer of Wyndham International with responsibility for overseeing all aspects of management of the company's branded and nonbranded assets. With more than $1.5B in annual revenue, Wyndham's portfolio includes more than 190 properties with more than 50,000 guest rooms. These assets include Wyndham's core brands -- Wyndham Hotels & Resorts, Wyndham Luxury Resorts and Summerfield Suites by Wyndham -- as well as the non-Wyndham branded assets of Performance Hospitality Management and Wyndham's Asset Management Division. Additionally, he oversees a variety of corporate functions including sales & marketing, human resources, IT, and procurement. Ted joined Wyndham in May of 2000 as COO. In October of 2000, he assumed the additional title of President.
Mr. Teng has more than 25 years of international experience in hotel operations, finance and development in North America and Asia Pacific. Prior to joining Wyndham, he served as President, Asia Pacific, for Starwood Hotels & Resorts where he oversaw the integration of that company's branded hotel operations in the region, and the operating and financial performance of over 70 hotels and resorts in 17 countries.
Ted was also the former President of Asia-Pacific for Westin Hotels, where he managed the growth of the brand from 14 to 24 properties and was credited with substantially increasing gross operating profit margins. During his fourteen years with ITT Sheraton, he served in a variety of senior and strategic capacities.
Mr. Teng graduated from the School of Hotel Administration at Cornell as a COSEP student and holds an M.B.A. from the University of Hawaii. Born in Shanghai, China, he grew up in Hong Kong and emigrated to the U.S. at age 13. He became an U.S. citizen at age 18. Ted is married to Jane L. Wong-Teng (Cornell '77 HumEc) and they have three children; Christopher 21; Jonathan 19 (Cornell '07 Hotel); and Janelle 14.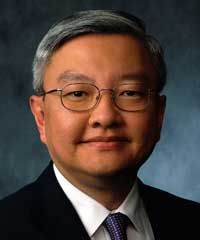 At the time of our 30th reunion, Ted is President and CEO of The Leading Hotels of the World and once again living in New York City.

At the time of our 35th reunion, Ted is at the pinnacle of his career as the CEO of The Leading Hotels of the World. After a five-year restoration, he is now reinventing this legendary luxury hotel institution.