Phil became Dean of the Lundquist College of Business at the University of Oregon in the summer of 1999, where he also holds the Miller chair. The college is one of the two highest ranked business schools in the Northwest.
Romero's background combines think-tank economics, corporate strategy, and high level public policy. After years as a research economist and defense policy specialist at California's RAND Corporation, in 1990 he was named Director of Strategic Planning for United Technologies (UTC). In that job, Romero advised the UTC Chairman on new market opportunities, acquisitions, and divestitures.
In 1991 Romero was tapped by newly-elected Governor Pete Wilson to become California's chief economist. He served as troubleshooter on business and economic operations until 1999. During his tenure, Romero served as Acting Director of the Office of Planning and Research (OPR), the Governor's think tank. As Chief Deputy Cabinet Secretary, he oversaw all state agencies that regulated or promoted business. He was Executive Director of the California Managed Health Care Improvement Task Force, which designed an overhaul of state regulation of the HMO industry.
Dr. Romero earned a Ph.D. and M.A. in Policy Analysis with Distinction from the RAND Graduate School, and a B.A. in Economics and Political Science from Cornell. He has published numerous research papers and is co-author of several books. He has taught courses at UCLA, USC, Pepperdine, and in the California State University system.
Phil is a member of the Council on Foreign Relations and a recipient of its Ford Foundation International Affairs Fellowship. He is also a member of the Governor's Council of Economic Advisers, a Distinguished Visiting Fellow at Stanford's Hoover Institution, a founding member of the Pacific Council on International Policy and a Senior Fellow in Business and Economic Studies at the Pacific Research Institute. Married to Lita Flores since 1984, he enjoys designing and playing historical simulation games.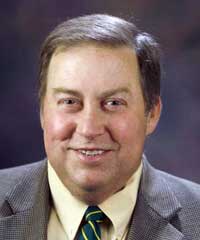 At the time of our 30th reunion, Philip is Dean of the College of Business and Economics at California State University Los Angeles, one of the nation's largest educators of immigrant first generation college students. He's developed a lively public policy consulting practice, helping companies and coalitions evaluate the impact on business and the economy of proposed initiatives and legislation.

At the time of our 35th reunion, Phil's work is directed towards helping Boomers protect their savings from demographic headwinds and the predations of dysfunctional governments. He published Your Macroeconomic Edge: Investing Strategies for Executives in the Post-Recession World in 2012; and What Hedge Funds Really Do is forthcoming in Fall 2014. He also serves as economics editor for an executive MBA publisher, Business Expert Press; cofounder of Baseline Media; and host of "Phil Romero's Smarter Money" on Fox.