Doug is a General Partner at Sequoia Capital in Menlo Park, CA. Since 1972, Sequoia has provided startup venture capital for very smart people who want to turn ideas into companies. As the "Entrepreneurs Behind the Entrepreneurs", Sequoia has worked with innovators such as Sandy Lerner and Len Bozack of Cisco Systems, Jerry Yang and David Filo of Yahoo!, Larry Page and Sergey Brin of Google, Dan Warmenhoven of Network Appliance, T.J. Rodgers of Cypress Semiconductor, Steve Jobs of Apple Computer and Larry Ellison of Oracle. The companies organized by Sequoia Capital now account for about 10% of the value of NASDAQ. Doug focuses on investments in the software and systems sectors. In 2001, Forbes Magazine named Doug one the top ten venture capitalists in the US.
He is a Director of Agitar, Aruba, inCode, Onetta, Metreo, nthOrbit, RouteScience and VA Software. Doug is also responsible for Sequoia Capital's investment in Rackspace. Previously, he had been a Director of Abrizio (acquired by PMC-Sierra), Assured Access (acquired by Alcatel), RightWorks (acquired by i2), Sentient Networks (acquired by Cisco), Hyperion (HYSL), International Network Services (acquired by Lucent), Infinity International (acquired by Sungard), Scient (SCNT), Rhapsody (acquired by Brocade), as well as the Chairman of Shomiti (acquired by Finisar).
Before joining Sequoia in 1988, Doug held sales management positions at Sun Microsystems, Hewlett-Packard and Prime Computer. He holds a B.S. in Mechanical Engineering from Cornell, an M.S. in Industrial Engineering from Columbia, and an M.S. in Management from MIT. Mr. Leone is a Trustee of the Menlo School, a member of the Private Equity Investment Committee and University Council of Cornell, a member of the Board of Advisors of Duke and a member of the Venture Investment Committee of the Stanford University Engineering School.
Doug, his wife Patti, and their four children: Julie (at Duke), Kristin (at Cornell), Tyler (high school), Hannah (middle school) live in California.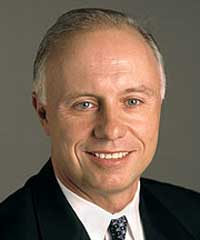 At the time of the 30th reunion, Doug is still a managing general partner at Sequoia Capital. Daughter Julie just started at Stanford Business School, daughter Kristin is a product manager at a Silicon Valley start-up after graduating from Cornell, son Tyler just graduated from Santa Clara and is working in high-tech sales, while daughter Hannah is a sophomore at Princeton.
At the time of the 35th reunion, Doug has been busy as managing partner at Sequoia Capital, with responsibility for all global operations. Doug was recently nominated as one of seven Hall of Fame investors by Forbes magazine. Doug and Patti are happy to report that their kids (Julie, Kristin, Tyler and Hannah) are almost done with their education having graduated with bachelor and master degrees from Cornell, Duke, Stanford, Princeton, Duke, Northwestern and Santa Clara.