Todd was part of the original management team of Staples where he helped open the world's first office superstore. During his career at Staples, Todd was EVP Sales and Marketing. Under his sales leadership, Staples grew from zero to over $7B in annual revenue. Todd also started Staples' catalog business, which he ran as a $500M operation. In addition, he launched the company's international ventures, managing Staples' operations in several countries. Todd identified the opportunity for, and negotiated the naming rights for, the Staples Center in Los Angeles. He has won a gold "Clio" award for best retail advertising in the US.
In 1998, Todd left Staples and founded Zoots, now the country's largest dry cleaning chain with 56 stores in 10 states. Todd was CEO of Zoots for five years. Zoots is credited with introducing a number of innovative concepts to the dry cleaning industry, including 24 hour-a-day accessibility and dry cleaning on-line. Many of the company's stores also offer drive-thru service. Recently, the company has expanded into other sales channels, including pickup and delivery, and office and hotel contract dry cleaning. Todd is Chairman of the $50M company today.
In 2003, Todd started Orchid Partners with four other entrepreneurs. Orchid Partners is a venture capital firm focusing on early stage, New England based, technology, software, communications, and consumer product companies.
After graduating from Cornell with an AB in chemistry, Todd worked as a chemist for General Foods. He holds patents on new food processing methods for his work there. Todd then went on to earn an MBA from Harvard.
Todd is a member of Cornell's Arts and Sciences Alumni Council and the Harvard Business School Entrepreneurship Center Advisory Board. In addition, he sits on several corporate boards. Todd and his wife, Debbie, live in Massachusetts with their three children, Rachel (16), Charlie (14) and Eric (11).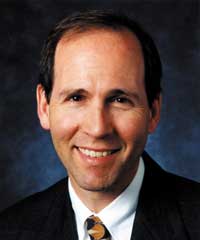 At the time of our 30th reunion, Todd is a founding director of Carbonite.com, the world's leading on-line computer backup service. Todd also helped launch, and is a partner in, the Highland Consumer Fund, a $300M venture fund focusing on consumer growth companies.
At the time of our 35th reunion, Todd is a venture capitalist and serves on numerous boards including Carbonite, Inc, the leading on-line computer backup service, and The Tile Shop, the largest chain of tile stores in the country. Todd is also on the board of the Harvard-Smithsonian Astrophysics Observatory.