Peter serves as President, Merck Research Laboratories, where he is responsible for all of Merck's drug and vaccine discovery and development activities. He joined Merck in 2001 as Executive Vice President, Research and Development. He is a structural biologist who has made fundamental discoveries about how proteins cause membranes to fuse, a central feature of all life. He has designed novel compounds that stop membrane fusion by the AIDS virus, thereby preventing it from infecting cells.
Prior to joining Merck, he was a faculty member for 12 years in the Biology department at the Massachusetts Institute of Technology (MIT), where he most recently served as Professor and Associate Head of the department. He was also a Member of the Whitehead Institute for Biomedical Research and an Investigator at the Howard Hughes Medical Institute. Dr. Kim also served as a member of the National Institutes of Health (NIH) Advisory Committee to develop an AIDS vaccine.
Dr. Kim received his undergraduate education at Cornell University, graduating magna cum laude with distinction in chemistry. He received his Ph.D. in biochemistry from Stanford University in 1985. While at Stanford, he was also a Medical Scientist Training Program Fellow.
Peter is an elected member of both the National Academy of Sciences and its Institute of Medicine, a fellow of the American Academy of Microbiology, and a member of the Korean Academy of Science and Technology. His awards include the Ho-Am Prize for Basic Science from the Samsung Foundation, the National Academy of Sciences Award in Molecular Biology, the Hans Neurath Award of the Protein Society, and the Eli Lilly Award in Biological Chemistry from the American Chemical Society. He also serves on the Board of Directors of the Fox Chase Cancer Center.
Peter, his wife Kathryn Spitzer Kim (Cornell '79) and their three sons live in Bryn Mawr, Pennsylvania.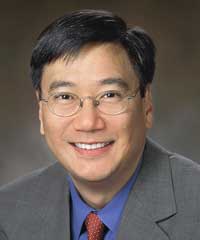 At the time of our 30th reunion, Peter was part of an executive team at Merck leading the $41 billion merger with Schering-Plough Corp. The merger was completed in November 2009, and Peter was named President of the newly combined R&D organization (Merck Research Laboratories) which has more than 15,000 employees worldwide.

At the time of our 35th reunion, after 10 years as President of Merck Research Laboratories, Peter has returned to academia as Professor of Biochemistry and Member of the Chemical Biology Institute at Stanford University. His research is aimed at creating an AIDS vaccine.
At the time of our 40th reunion, Peter is enjoying his return to Stanford as the Virginia & D.K. Ludwig Professor of Biochemistry and a ChEM-H Institute Scholar. He is also Lead Investigator of the Infectious Disease Initiative at the Chan Zuckerberg Biohub. He continues his research aimed at creating vaccines, including against HIV.