Bill is President and CEO of First Pioneer Farm Credit. First Pioneer (headquartered in Enfield, CT) is an Agricultural Credit Association (ACA) serving Massachusetts, Connecticut, Rhode Island, New Jersey, New Hampshire (six eastern counties) and New York (44 counties that are east of Syracuse). He assumed this position in June of 1994.
First Pioneer has loans outstanding in excess of $1.8 billion to over 9,400 farmers, agribusiness firms, and rural residence customers. It is also a leading provider of financial services, including record keeping, tax preparation, business and estate consulting, appraisal, crop insurance and credit life insurance.
Bill began his career at Farm Credit in 1979. He served in various capacities including loan officer, branch manager and regional supervisor. He then joined the Springfield Bank for Cooperatives, where he served the credit needs of large Northeast cooperatives. In 1988, Bill left Farm Credit to run a family owned construction company in the Albany, NY area. He then joined the Farm Credit Banks of Springfield as a Vice President working with district ACAs.
He is Chairman of Financial Partners, Inc., a service and technology provider operating on behalf of Farm Credit institutions in the Northeast, California, Nevada, Arizona, Washington, Oregon, and Montana. In addition, he is a past director of Farm Credit Leasing, a national leasing company headquartered in Minneapolis, Minnesota.
He is a past director of LEAD New York, a member of the Cornell Agriculture and Life Sciences Advisory Council and is former chairman of the Farm Credit System President's Planning Committee. In 2000, he was selected as an Outstanding Alumnus of the College of Agriculture and Life Sciences at Cornell University.
Bill grew up on a farm located north of Albany, NY. He is a graduate of Cornell with a degree in Agricultural Economics. Bill, his wife Alicia and their four children reside in Hampden, Massachusetts.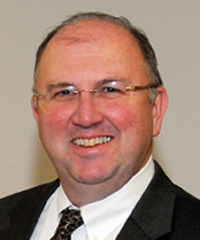 At the time of our 30th reunion, Bill is still President & CEO of First Pioneer Farm Credit. He says that he's just getting older, the kids are getting through college, and he sits on a few more Boards of Directors.
At the time of our 35th reunion, Bill is still CEO of Farm Credit East (formerly First Pioneer) serving all northeast farmers and fisherman. His family continues to be well with grandchildren entering the picture. He is starting to spend more energy on Boards and service organizations outside of agriculture.