Heidi is CEO of the Black Diamond Group. She has twenty-five years of experience in the property-casualty insurance industry.
She began her career in 1979 with Swiss Reinsurance Company in New York where she specialized in the new field of finite reinsurance. From 1993 – 1995, she was in charge of the Equitas project at Lloyd's of London that created Equitas as the largest run-off reinsurer in the world. In 1996, she returned to Swiss Re as CEO for the US and Canadian operations and as a member of the Executive Board of Swiss Re in Zurich, Switzerland.
Ms. Hutter left Swiss Re at the end of 1999 and took a year off to travel and spend time on other pursuits. During that time, she took up dancing where she met her husband, Mark Kotowski, and was married in 2003.
In 2001, Heidi and her business partners formed a new merchant banking firm, The Black Diamond Group, to specialize in insurance restructurings. They acquired Talbot Underwriting Ltd. from Alleghany Corp. in 2001 and have since structured many other transactions.
Ms. Hutter graduated from Cornell University with a degree in mathematics. She is a Fellow of the Casualty Actuarial Society, a member of the American Academy of Actuaries, the International Actuarial Association and the Swiss Academy of Actuaries. She is a Director of Aspen Insurance Holdings (NYSE: AHL), Aquila, Inc. (NYSE: ILA) and Talbot Holdings Ltd. She is a member of the Board of Overseers of the School of Risk Management at St. John's University.
Heidi and Mark reside on the Upper West Side of Manhattan.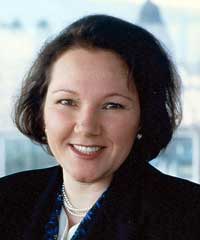 At the time of our 30th reunion, Heidi is living in Austin, TX with her husband. She is a founding partner in the private equity firm Black Diamond Capital Partners that focuses on the insurance industry and she continues to serve on the boards of Aspen Insurance Holdings, AmeriLife Holdings and the School of Risk Management at St. John's.

At the time of our 35th reunion, Heidi continues to work on the boards of the fund's portfolio companies. She and her husband Mark also spend time at their second home in Los Angeles.