Jim is entering his fourth season as the Head Football Coach at the University of Buffalo. He is a 25-year veteran of Division I football, including 11 seasons as a head coach. During his career, he has coached in five bowl games. Hofher has seen four of his Buffalo players sign NFL contracts.
Before coming to Buffalo, Jim was the quarterbacks coach at Syracuse during the 2000 season. From 1987-88, he had also been with the Orange as running backs and special teams coach. Prior to rejoining the SU staff, Hofher spent two seasons as the passing coordinator at the University of North Carolina.
Hofher was head coach at Cornell from 1990-97 and left the Big Red with a career record of 44–36, including a 33–23 record in Ivy League games. His 33 league victories are the most of any Cornell head coach in history. During his tenure, the Big Red played for two league titles, winning one. In addition, he had two players selected in the NFL draft and two NFL free agents.
Hofher was the quarterbacks coach at Tennessee in 1989 when the Volunteers won the Cotton Bowl and were SEC tri-champions. Prior to his stint at UT, he served three seasons as running backs coach at Wake Forest from 1983-86 prior to his first appointment at Syracuse. Hofher's first full-time collegiate coaching experience was at Miami (OH) where he served as the quarterbacks and wide receivers coach from 1981–82. He was a graduate assistant at Wake Forest in 1979-80, where he coached the tight ends.
A three-year letter winner at Cornell, Hofher was the starting quarterback and led the team in passing yardage from 1976–78. A 1979 graduate of the College of Human Ecology, Hofher graduated with a bachelor's degree in Consumer Economics and Public Policy. Jim and his wife Cathy have three daughters: Tara (19), Shannon (17) and Molly (13).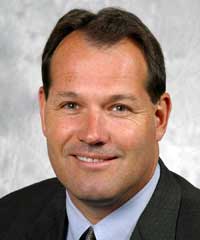 At the time of our 30th reunion, Jim is settling into a new job as the offensive coordinator at the University of Delaware, after having served on the football coaching staff at Bowling Green State University in 2008.

At the time of our 35th Reunion, Jim is beginning his 2nd season as the Assistant Head Coach and Wide Receivers Coach at the University of Nevada, Reno. This follows a 4-year stint as the Offensive Coordinator and Quaterbacks Coach at the University of Delaware.
At the time of our 40th reunion, Jim is entering his 41st year of college coaching as a Senior Consultant to the Head Football Coach at Iowa State University.