Dwight is currently Managing Partner of D.L. Bush & Associates, a financial advisory and private investment firm located in Washington, DC. He has nearly 30 years of corporate banking, private equity, mergers and acquisition and strategic financial management experience. His career includes roles as a financial transaction professional, corporate officer, and board fiduciary.
Among other things from 2004 through 2007, Dwight established and served as Chairman, President and CEO of Urban Trust Bank. During this period he also founded and served as CEO of UTB Education Finance, LLC, an integrated provider of education credit and services. From 1999 through 2002 Dwight served as Chief Financial Officer of SatoTravel, at the time the nation's fourth largest integrated travel services company. SatoTravel was a portfolio investment company controlled by Stuart Mill Capital LLC where Dwight was also a Principal from 1998 through 2004. From 1994 through 1997 he served as Vice President, Corporate Development, and Chief Credit Officer of Sallie Mae, the nation's largest provider of education credit and services. He joined Sallie Mae after a successful 15 year career at The Chase Manhattan Bank where he worked in a variety of banking capacities before departing as a Managing Director in 1994.
A Government major at Cornell, Dwight has been active in corporate, education and philanthropic governance in coincidence with his professional career. Among other things, he is currently a member of the boards of directors of publicly traded, Entremed, Inc. and JER Investors Trust. He also served on the boards of directors of Urban Trust Bank Holdings, UTB Education Finance, LLC, US Education Finance, LLC, Urban Cableworks, and Inner City Broadcasting, Inc. Dwight is currently a member of the boards of trustees of Cornell University, The National Symphony Orchestra, The GAVI Alliance and The Georgetown Day School. Over the last six years he has also been a member of The White House Fellows Selection Committee.
Residing in Washington, DC, Dwight is married to Antoinette Cook Bush (partner, Skadden Arps Slate Meagher & Flom). They have two children: Dwight, Jr. and Jacqueline.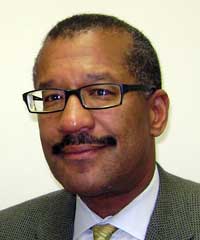 At the time of the 35th reunion, after a career in banking, finance, and corporate & philanthropic governance, Dwight is serving his country as US Ambassador to The Kingdom of Morocco. He is also a presidential councillor and emeritus trustee of Cornell.