Joshua is Professor and Vice Chairman of the Department of Neurosurgery at the Mt. Sinai School of Medicine. He was born in New York City (coincidentally at Mount Sinai Hospital) and grew up in Westchester County (Larchmont).
During grade school, Josh was both a gymnast and sculptor. In gymnastics, he competed in all six events and was captain of his high school team. At Cornell, he was Ivy League All-Around Champion in each of the three years he competed. Josh attended medical school at UCSF where he began neuroscience research in cerebral ischemia. He took time off from medical school to study sculpture in NYU's masters program. During that time, he published two papers on stroke and also remarkably had a solo sculpture show. He returned to San Francisco to finish med school and stayed on for his residency.
During his internship, he met and married Isabelle Germano. She subsequently matched in Neurosurgery at UCSF then accompanied him to Zurich where she completed the last two years of her residency at Montefiore. She is now Associate Professor of Neurosurgery at Mount Sinai. They have two daughters, Lucia 10 and Maria 6.
After residency, Josh spent six months in Zurich and Slovenia. After that, he went to Phoenix for a cerebrovascular surgery fellowship. He worked as an attending physician at Montefiore Medical Center in the Bronx for one year before going to Mount Sinai in 1992 as the Director of the Cerebrovascular Surgery program. In 2001, he became Professor of Neurosurgery and Vice Chairman of the department. In 2002, he became Director of the Neurosurgery Residency Program. At Mount Sinai, Josh established the first basic science lab in the department, developing models of stroke and subarachnoid hemorrhage. Initially supported by the department, he later received several grants.
In 2002, he became the first neurosurgeon at Mount Sinai Hospital to ever receive a NIH R01 as principle investigator. Currently, he is Secretary of the Cerebrovascular Section of the AANS/CNS.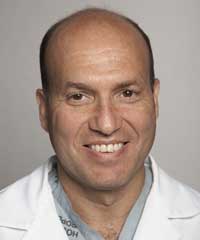 At the time of our 30th reunion, Josh had served as Chairman of the American Association of Neurological Surgeon's section on cerebrovascular surgery. He became chairman of the department of neurosurgery at Mount Sinai in 2008.
At the time of our 35th reunion, Josh continues as Chairman of the Department of Neurosurgery at the Mount Sinai Health System. His clinical work is focused on complex tumors of the skull base and cerebrovascular problems and his research is focused on developing computer-based virtual reality platforms for brain surgery simulation. Although Josh is no longer a gymnast, he continues his work as a sculptor in many different materials.